Exhaust Valves Control
Get full control of your PORSCHE 991.2 GT3 RS 4,0l OPF exhaust valves
Flaps always open, closed or automatic factory control
The CARGRAPHIC valve control unit is installed between the electronic valve actuators and the factory control unit. It thus takes over complete control of the valves either from the standard exhaust system or integrated in CARGRAPHIC exhaust components. This allows the flaps to be always opened / closed manually by remote control or reactivates the factory automatic control.
Quiet engine start possible
For the Porsche 991.2 GT3 RS with 4,0l engine and Otto-Particulate-Filter OPF, we offer a vehicle-specific valve control system that makes installation simple and easy, as well as allowing trackless refitting. A special feature is the possibility of a "quiet" engine start: The programmable start mode allows the engine to be started either with the flaps open or closed, as desired. The control unit either remembers the last mode used or you simply programme the desired flap position permanently.
Your Vehicle > for Porsche > for 911 > for 991.2 with OPF > for GT3 RS 4,0l with GPF > Exhaust Systems and Components for Porsche 991.2 GT3RS 4,0l > Valve-Control Unit for Porsche 991.2 GT3 RS 4,0l with OPF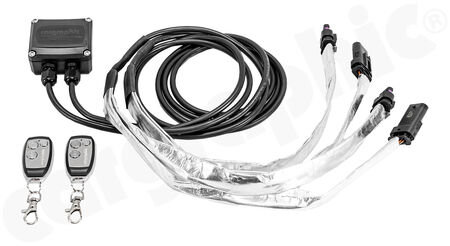 CARGRAPHIC Valve Control Unit
- for models with 2 factory valves
- SPORT mode: valves always open
- COMFORT mode: valves always closed
- AUTOMATIC mode: factory control is activated
Part No.
EXFLAPRCOEE3E
Details ...