Manifolds / Catalytic Converters
CARGRAPHIC high-performance header for Porsche 718 Boxster GTS 4,0l
More power through motorsport technology for Porsche 718 Boxster GTS
The CARGRAPHIC header, specially developed for the Porsche 718 Boxster GTS with 4,0l 6-cylinder boxer engine, offers a primary pipe diameter increased to 2" or 50.80mm compared to the series exhaust manifolds, as well as both identical and extra long pipe lengths. Due to the precisely calculated design, the exhaust gases are thus led out of the cylinder without significant back pressure, which means that the piston requires less force to expel the exhaust gases. The resulting faster and complete replacement of the exhaust gases with fresh gas leads to optimised combustion, a lower internal cylinder temperature and less effort, and thus to a noticeable increase in performance.
Fully made from SS304L Lightweight Stainless Steel on CNC bending machine
CARGRAPHIC manifolds are high precision, high performance exhaust components and are made entirely of SS304L lightweight stainless steel. The production with modern CNC pipe bending machines with mandrel support (Mandrel-bent) allows a continuous constant pipe diameter. Laser-cut flanges also ensure outstanding fitting accuracy.
Manifolds with integrated catalytic converters
CARGRAPHIC high-performance header for the Porsche 718 Boxster GTS 4,0l is also available with integrated CARGRAPHIC sport catalysts. Different versions are used depending on requirements and application: 200 cell tri-metal honeycomb carriers with full OBD2 compatibility or as 100 cell MOTORSPORT versions for individually tuned performance upgrades.
Features CARGRAPHIC manifolds for Porsche 718 GTS
Primary pipes of equal and extra long construction
Motorsport Spike Collector
Manufactured on CNC tube bending machine with mandrel support (Mandrel-bent) which allows exhaust pipes with constant diameter
Fully made from SS304L lightweight stainless steel
High performance components, dyno tested
Laser-cut flange for perfect fitting accuracy
Reduced backpressure due to freer flowing
Reduced operating temperature
Maximized performance
Improved throttle response, freer revving
Improved enhanced acoustics with no drone, resonation or vibration
Weight reduction
Your Vehicle > for Porsche > for Boxster > for 718 (Type 982) > CARGRAPHIC Tuning Program for Porsche 718 Boxster GTS 4,0l > CARGRAPHIC Sport Exhaust Systems for Porsche 718 Boxster GTS 4,0l > Manifolds / Catalytic Converters für Porsche 718 Boxster GTS 4,0l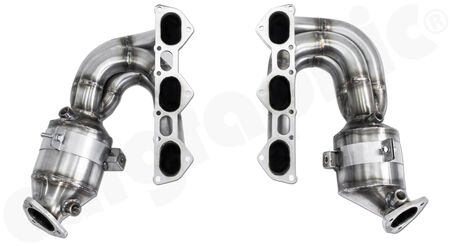 CARGRAPHIC Longtube Manifold Set
- 2" / 50,80mm primary diameter
- 2x 200cpsi Ø130mm HD Tri-Metal catalytic converters
- fully OBD2 compliant
Part No.
CARP82GT4FKROBD2
Full Sport Exhaust System - drive records
Full Sport Exhaust System - static record