Final Silencers / Replacements
CARGRAPHIC Final Silencer / Muffler and Replacement Pipes for Porsche 718 Cayman GT4 4,0l
The CARGRAPHIC sport rear silencer exhaust program offers various muffler and silencer replacement pipes to upgrade the acoustic and optic appearance of the Porsche 718 Cayman GT4 with 4,0l 6-cylinder boxer engine
TOURING, CLUBSPORT and RACING - 3 different silencer designs for Porsche 718 Cayman GT4 4.0l
In order to meet the different customer requirements and the respective application purposes, we have decided to develop and offer 3 different rear silencer concepts:
TOURING version - The all-round model:
The TOURING silencer is by far the "all-rounder" in the CARGRAPHIC product family, due to its large-volume, triangular body construction and its special acoustic resonator. Designed for stress-free travel over long distances with pleasant background noise, thanks to the complete absence of annoying drone or resonance noises. At the same time the possibility of experiencing the unfiltered, powerful sound of the exhaust flow during active driving, with the valves open, directly from the dual-flow OPF outlets into the tailpipe openings.
CLUBSPORT version - The sporty model with sound tuning:
The CLUBSPORT silencer is, as the name suggests, the lighter and smaller oval version of the TOURING silencer. It offers even less weight and a sportier sound, with slight resonance noises between 2000 and 3000 rpm. In addition, the basic tone of the silencer can be tuned: either with a merged pipe for gas flow collision for a quieter and smoother sound - or a plug for a separated exhaust gas stream with a more aggressive sharp sound.
RACING version - Combination of X-pipe and Silencer:
The RACING silencer is the extreme version, a combination of X-pipe and bypass sport rear silencer. Unlike the TOURING and CLUBSPORT versions, with separate gas routing, an X-pipe construction with mixed exhaust gas routing is used here, in conjunction with a small, oval silencer in the bypass exhaust flow. With open exhaust valves here too, the pure unfiltered exhaust gas flow from the double-flow OPF outlets is directed into the main exhaust gas flow.
All three silencer versions can be equipped with our slip-on, silenced tailpipes for use on noise-restricted race tracks.
Traditional craftsmanship supported by state-of-the-art production technology.
SS304L lightweight stainless steel, manufactured to the highest standards for the aircraft industry, provides the base for almost every CARGRAPHIC exhaust component. Each silencer and exhaust pipe is manufactured using traditional craftsmanship with the support of the latest manufacturing technology such as computer-controlled CNC bending machines, laser cutting machines or orbital welding equipment.
Your Vehicle > for Porsche > for Cayman > for 718 (Type 982) > CARGRAPHIC Tuning Program for Porsche 718 Cayman GT4 4,0l > CARGRAPHIC Sport Exhaust Systems for Porsche 718 Cayman GT4 4,0l > Sport Exhaust Final Rear-Silencer for Porsche 718 Cayman GT4 4,0l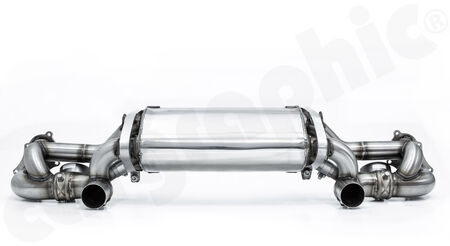 CARGRAPHIC Sport Rear Silencer CLUBSPORT
-
Oval
shape silencer / small volume, 11,80kg
-
SOUND PLUS / SUPER SOUND PLUS Version
- with integrated exhaust valves
-
Sound Tuning
via balancepipe / plugs
Part No.
CARP82GT4ETFLAPSS
CARGRAPHIC Sport Rear Silencer X-Pipe RACING
-
Oval
shape silencer / small volume, 11,80kg
- X-Pipe Version merged exhaust flow
-
SOUND PLUS / RACING SOUND Version
- with integrated exhaust valves
Part No.
CARP82GT4ETXFLAP
TOURING Sound - static record
CLUBSPORT Sound - static record
TOURING / CLUBSPORT Sound - drive records
X-PIPE RACING Sound - static record
X-PIPE RACING Sound - drive records
Full Sport Exhaust System - drive records
Full Sport Exhaust System - static record